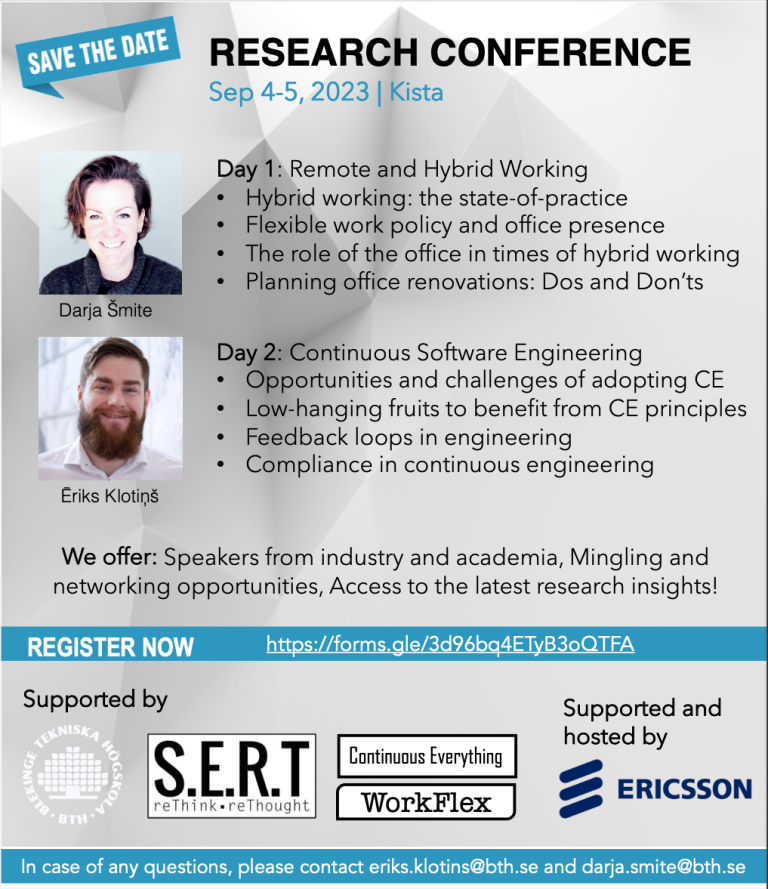 Day 1: Hybrid work
The WorkFlex seminar on Hybrid working, the second in a series of seminars, was dedicated to the role of the office in the times of hybrid working and attracted more industry participants and talks. We finished with a commitment to establish and maintain a Nordic contact network on hybrid work research and practice.
Big thanks to Ericsson for hosting us this year in Kista and to speakers, Per Kristian Helland from Storebrand, Marcin Floryan from Spotify, Lars-Gunnar Lundgren from SONY / Nimway, and Mats Fröling from Ericsson. And Nils Brede Moe, Eriks Klotins and me got a chance to share our latest research results.
Day 2: Continuous everything
Continuous engineering is much more than tools for delivering software faster. It is also about balancing the tradeoffs between "faster" and "better," clever use of feedback loops and metrics, automated verification of quality requirements, and delivering compliant #software on a global scale.
Such topics were discussed at the first industry/academia conference on continuous everything. 
Many thanks to Ericsson for hosting the event, speakers Ulf Kjören from Ericsson, Liang Yu from FMS Solutions, Laurent Ploix from Spotify, Franz Zieris and Michael Dorner from Blekinge Institute of Technology. My colleagues and partners Darja Smite, Stefan Wilke, and Katarina Sundelin for organizational support.
 Download Conference Material:
Contact information:
Darja Smite – darja.smite@bth.se
Eriks Klotins – eriks.klotins@bth.se